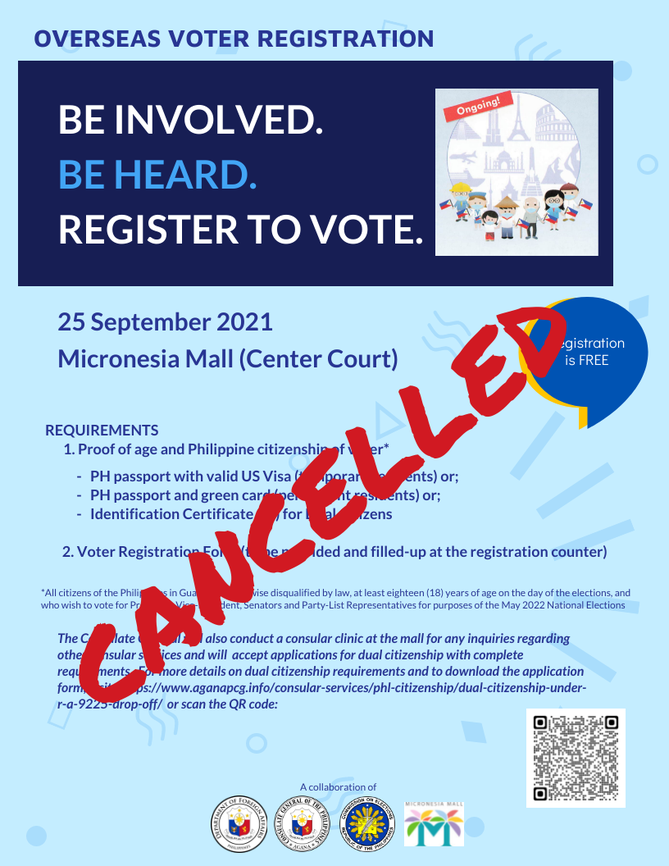 The Philippine Consulate General in Agana wishes to inform the public that in light of  the present COVID-19 situation in Guam and the current restrictions that have been set for social gatherings,   the Consulate General has decided to CANCEL the scheduled mobile overseas voter registration and dual citizenship application dropbox service set for: 
Saturday, 25 September 2021 
at the Micronesia Mall in Dededo.   
However,   the Consulate General will continue to accept applications for voter registration at the Consulate premises in the ITC Building during its regular business hours, Monday through Friday, from 9:00 a.m. - 5:00 p.m. until 30 September 2021.   
The Consulate General will also have special hours on Saturday, 25 September 2021 and will be open from 10:00 a.m. to 3:00 p.m.  on that day for overseas voter registration.  
All those who intend to register for overseas voting are requested to send an email to pcgagana@gmail.com to schedule an appointment.
Those who intended to avail of the dual citizenship dropbox service are requested to set appointments via the Consulate's online appointment system at:  https://bookmeaganapcg.setmore.com/ 
The Consulate General sincerely appreciates the public's continued understanding as the Consulate adheres to the prescribed measures against the COVID-19 pandemic for the safety of personnel, clients and all stakeholders of the Consulate General. 
 ###
Follow @PHinAgana on Facebook, Instagram, and Twitter 
---
September 25th Mobile Overseas Voter Registration Event at Micronesia Mall Cancelled
PRR-2021-022 Cancellation 2nd OV Reg Dri
Adobe Acrobat Document
623.5 KB