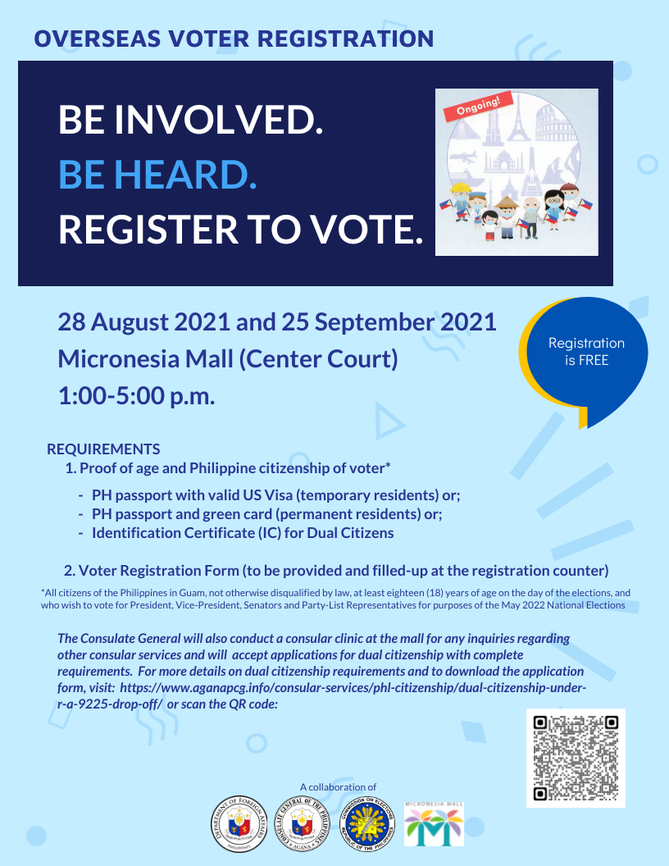 17 August 2021, Agana, Guam - The Philippine Consulate General in Agana, Guam would like to announce that it will hold a mobile overseas voter registration drive at the Center Court of the Micronesia Mall in Dededo, Guam from 1:00 p.m. to 5:00 p.m. on Saturday, 28 August 2021 and on Saturday,  25 September 2021.  This is in preparation for the Philippine National Elections in May 2022.  
All citizens of the Philippines in Guam, not otherwise disqualified by law, who are at least eighteen (18) years of age on the day of the elections (9 May 2022), may register as overseas voter.  Registration is free of charge.
REQUIREMENTS
1.  Applicants are requested to bring with them official documents as proof of age and Philippine citizenship:
a) Philippine Passport with valid US visa for temporary residents
b) Philippine Passport and permanent resident card ("Green Card") for permanent residents
c) Identification Certificate for dual citizens
2.  Duly-accomplished and signed voter registration form (to be provided at the registration counter)
The Consulate General will also conduct a consular clinic for any inquiries regarding consular services as well as accept applications for dual citizenship with complete requirements.  For more details on dual citizenship requirements and to download the application form, click here. 
This mobile registration and consular clinic is being undertaken by the Philippine Consulate General in Agana in cooperation with the management of Micronesia Mall.  
 ###
Follow @PHinAgana on Facebook, Instagram, and Twitter 
---
Overseas Voter Registration and Consular Clinic -- 28 August 2021 & 25 September 2021 at the Micronesia Mall
PRR-2021-018 Overseas Voter Registration
Adobe Acrobat Document
1.3 MB