PRR-2021-012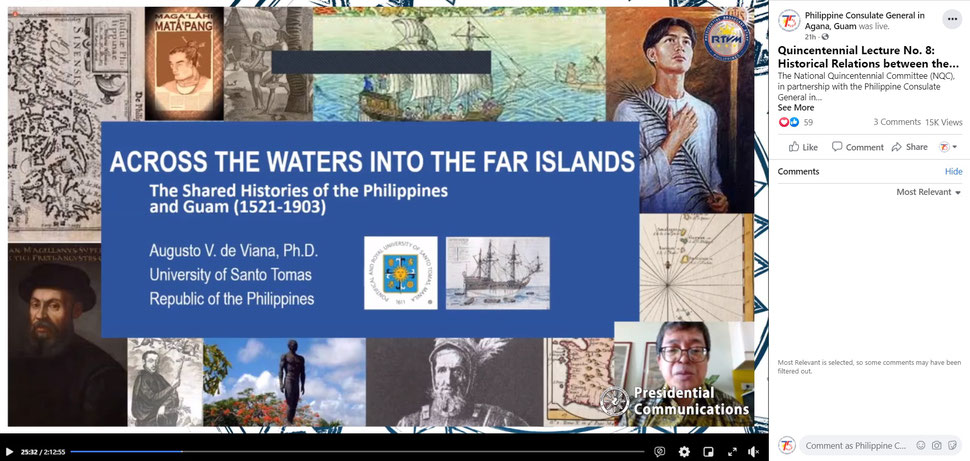 Dr. Augusto de Viana presents his lecture entitled "Across the Waters into the Far Islands: The Shared Histories of the Philippines and Guam (1521-1903)," during the livestream of the online lecture on the Historical Relations between the Philippines and the Mariana Islands, 30 April 2021.  (Screenshot FB @PHinAgana)
---
 30 April 2021, Agana, Guam – The Philippine Consulate General in Agana, Guam hosted on 30 April 2021 its landmark Quincentennial Commemoration event "Online Lecture/Dialogue on the Historical Relations between the Philippines and the Mariana Islands" with renowned Filipino historian, Professor Augusto de Viana of the University of Santo Tomas.  
Consul and Acting Head of Post Ferdinand P. Flores welcomed the global community to the online lecture/dialogue which is officially designated as part of the National Quincentennial Committee's Eighth Quincentennial Lecture Series.  The lecture/dialogue aims to highlight the shared history of the islands as vital way stations, with equal emphasis on prior and subsequent people-to-people exchanges. "We offer today's event as a venue for initial and hopefully progressive dialogue on issues percolating during and after the shared colonial experience and exchanges between the people of the Philippines and the Mariana Islands," said Consul Flores.
In his message, the Honorable Ernesto C. Abella, Undersecretary for Strategic Communications and Research conveyed that, "The Quincentennial Commemorations in the Philippines dares to retell the Philippine story from the perspective of Filipinos...  The Department of Foreign Affairs wishes to thank the international community for embracing the Filipino diaspora." 
Dr. de Viana, an Associate Professor of the Department of History and Research Center for Culture, Arts, and the Humanities of the University of Santo Tomas, delivered his lecture entitled, "Across The Waters Into The Far Islands" which focused on the shared histories of the Philippines and Guam from 1521 to 1903.  He concluded his lecture by proclaiming that the tumultuous years of the coming of Magellan and the Spaniards should not be celebrated but rather commemorated, and honor those who fought for freedom and identity.
Ms. Dulce Amor Fortunado from the PHL Department of Foreign Affairs - Foreign Service Institute served as moderator.  
Watch the lecture replay via Facebook @PHinAgana, @rtvmalacanang, and @NQC2021.   
This Quincentennial Lecture is made possible through the efforts of the Philippine Consulate General in Agana, Guam together with the support of the National Historical Commission of the Philippines (NHCP), Presidential Communications Operations Office (PCOO), Presidential Broadcast Staff – Radio Television Malacañang (PBS-RTVM), Philippine Information Agency (PIA), National Commission for Culture and the Arts (NCCA), Department of Foreign Affairs (DFA) and the Department of Education (DepEd).
---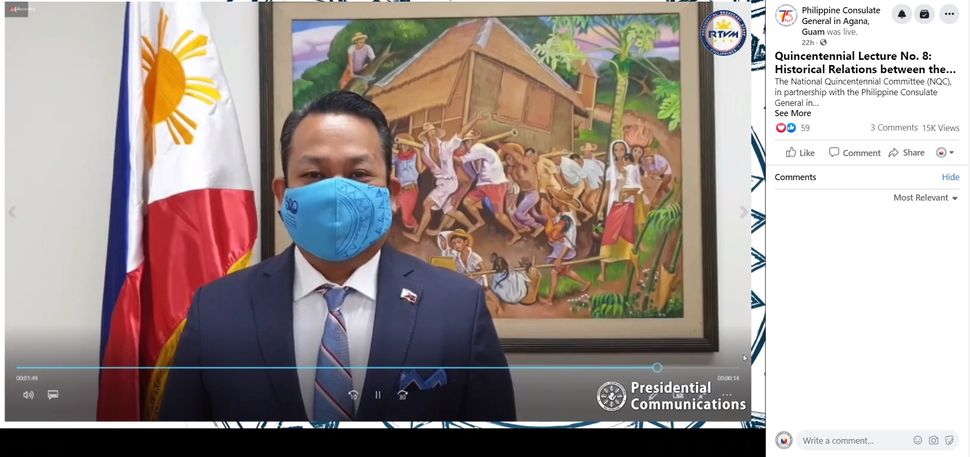 Consul and Acting Head of Post Ferdinand P. Flores delivers the welcome remarks during the livestream of the online lecture on the Historical Relations between the Philippines and the Mariana Islands, 30 April 2021.   (Screenshot FB @PHinAgana)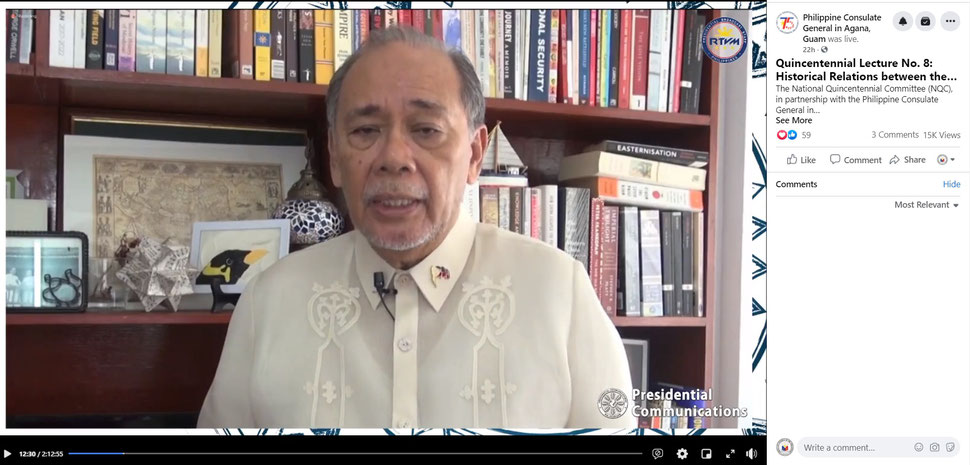 DFA Undersecretary for Strategic Communications and Research Ernesto C. Abella delivers his opening message during the livestream of the online lecture on the Historical Relations between the Philippines and the Mariana Islands, 30 April 2021.   (Screenshot FB @PHinAgana)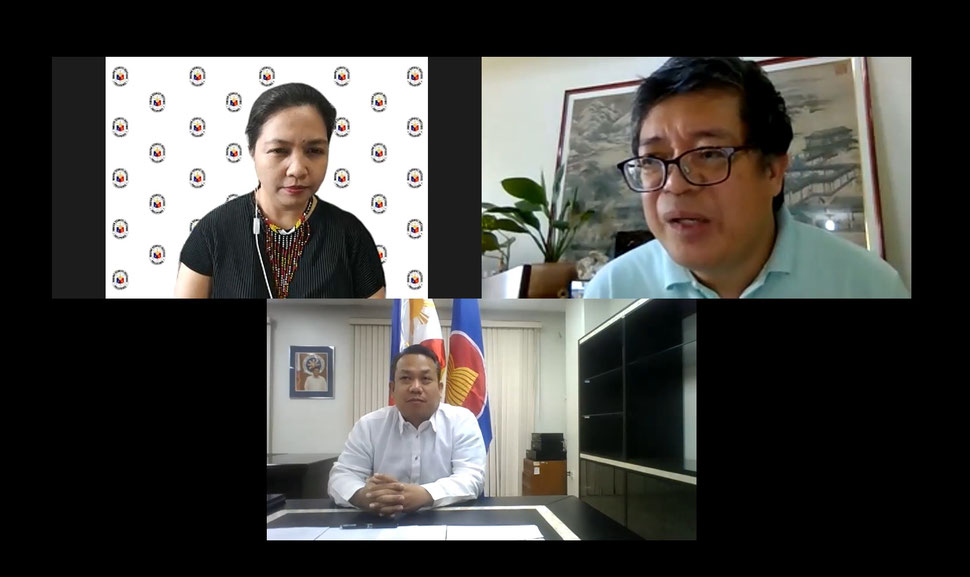 Consul and Acting Head of Post Ferdinand P. Flores (bottom photo), Dr. Augusto de Viana (upper rightmost), and Ms. Dulce Amor Fortunado during the open forum of the online lecture on the Historical Relations between the Philippines and the Mariana Islands, 30 April 2021   (Photo: Agana PCG)