PRR-2021-005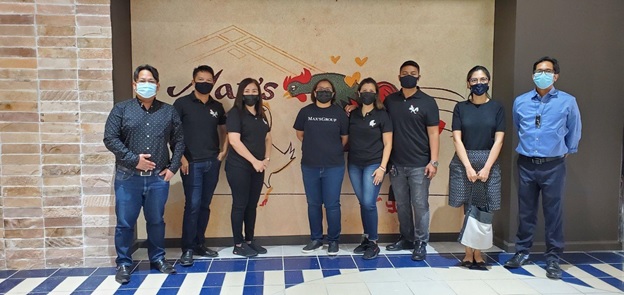 At the soft opening of Max's Restaurant Guam were (l-r): Consul and Acting Head of Post Ferdinand P. Flores; Mr. Roger Herrera, Quality Assurance, Max's KGI; Ms. Melissa Antonio, Manager for Operations, Max's Group; Ms. Katrina Basallo, Director, Max's Group; Ms. Eleanor Alinas, CEO Max's KGI; Mr. Maverick Rotap, COO, Max's KGI; Agana PCG Cultural Officer, Ms. Rosemarie S. Ramos-Blaser, and Consul Alex O. Vallespin, 17 February 2021.   (Photo: Agana PCG)
---
17 February 2021, Agana, Guam - Max's Restaurant Guam successfully held on 17 February 2021 its soft opening for the beloved Filipino restaurant's first store in Guam at the Micronesia Mall in Dededo.
Philippine Consulate General officials Consul and Acting Head of Post Ferdinand P. Flores - who is newly-arrived on the island - and Consul Alex O. Vallespin graced the event which was the dry-run for the public opening slated on 18 February 2021. 
Invited select guests were delighted to be given first dibs on Max's offerings including its famous fried chicken, spicy tofu, caramel bars, and leche flan.
Max's Restaurant traces its beginnings to 1945, after World War II.  Learn more via website:  https://www.maxschicken.com/page/about-us, and Max's Restaurant Guam via Facebook https://www.facebook.com/maxsrestaurantguam/. 
---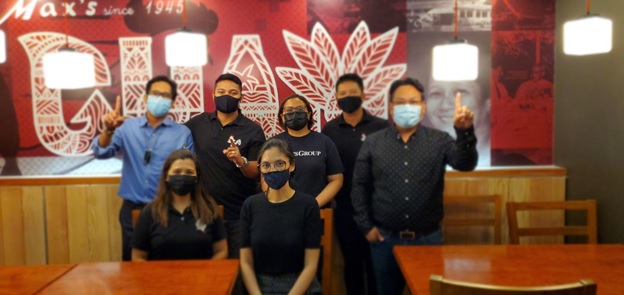 At the soft opening of Max's Restaurant Guam were (standing l-r): Consul Alex O. Vallespin; Mr. Maverick Rotap, COO, Max's KGI; Ms. Katrina Basallo, Director, Max's Group; ; Mr. Roger Herrera, Quality Assurance, Max's KGI; Consul and Acting Head of Post Ferdinand P. Flores; (seated l-r) Ms. Eleanor Alinas, CEO Max's KGI; Agana PCG Cultural Officer, Ms. Rosemarie S. Ramos-Blaser, 17 February 2021.   (Photo: Agana PCG)
---