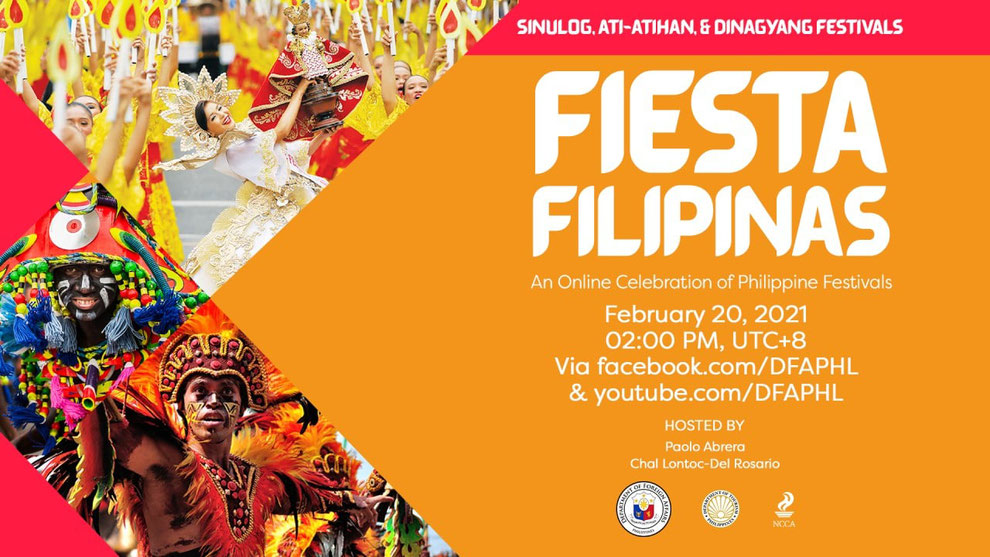 Hala bira! Curious about what this phrase means? You'll find out in the Fiesta Filipinas featuring the festivals of Sinulog, Ati-Atihan, and Dinagyang!
These three festivals are some of the grandest festivals in the Philippines that open up the celebrations for the year. Know more about them in the Fiesta Filipinas event on 20 February 2021, 2:00 p.m. (PH Time) (4:00 p.m. Guam time) via the DFA's Youtube channel.
--
The "Fiesta Filipinas: An Online Celebration of Philippine Festivals" project is a six-part, multi-format online event series from December 2020 until May 2021, which will simulate the experience of a festival through a combination of live and pre-recorded videos and live workshops and activities. The project aims to introduce and showcase Philippine festivals, culture, and traditions to our global audience and invite them to the country when conditions are more favorable. 
The project is organized by the Philippines' Department of Foreign Affairs and its 94 Foreign Service Posts, in cooperation with the Department of Tourism and National Commission for Culture and the Arts.
#FiestaFilipinas
#CulturalDiplomacy