PRR-2020-028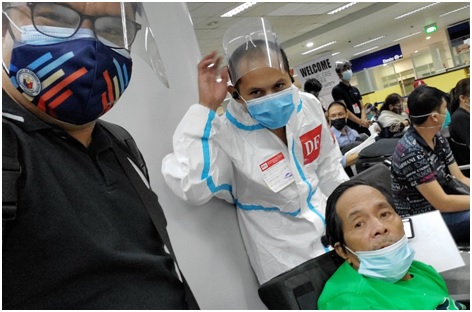 Photo R-L: Agana PCG's Ferdinand E. Villamor met by OUMWA's representative, Mr. Ysmael Alcano and Mr. Rodrigo R. Bayumbon at the Ninoy Aquino International Airport arrivals area, 07 December 2020 (Photo: PCG Agana)
The Philippine Consulate General in Agana successfully facilitated the medical repatriation of Mr. Rodrigo R. Bayumbon, Post's assistance-to-nationals medical case, to the Philippines via United Airlines flight from Guam to Manila on 07 December 2020.
Mr. Bayumbon arrived on Guam from Saipan for his connecting flight to Manila on 23 November 2020.   While waiting for his flight in the Guam International Airport (A.B. Won Pat), he suffered a seizure and was immediately brought to the Guam Regional Medical City (GRMC) for medical treatment. 
Agana PCG, upon being informed of what happened, immediately coordinated and maintained constant communication with the GRMC to provide appropriate medical intervention to Mr. Bayumbon.
Mr. Ferdinand E. Villamor of Agana PCG accompanied Mr. Bayumbon during the flight to the Philippines.
Prior to the day of their flight, Mr. Villamor underwent orientation at the GRMC for the proper handling of the patient before, during and after the flight.  Mr. Villamor's medical background (being a licensed Medical Technologist) came in handy as Mr. Bayumbon has mobility and speech limitations.
Upon their arrival in Manila, Mr. Villamor officially turned-over Mr. Bayumbon to Mr. Ysmael Alcano (personnel from the Office of the Undersecretary for Migrant Workers Affairs-DFA) at the airport for further assistance.  Mr. Ritchie Bayumbon, son of Mr. Bayumbon, was also at the airport
---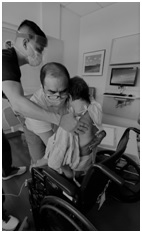 Mr. Villamor's orientation at GRMC handling the patient, 05 December 2020 (Photo: PCG Agana)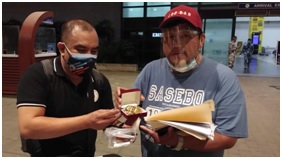 R-L: Mr. Villamor turning-over Mr.  Bayumbon's personal effects to Mr. Richie Bayumbon, 07 December 2020