PRR-2020-023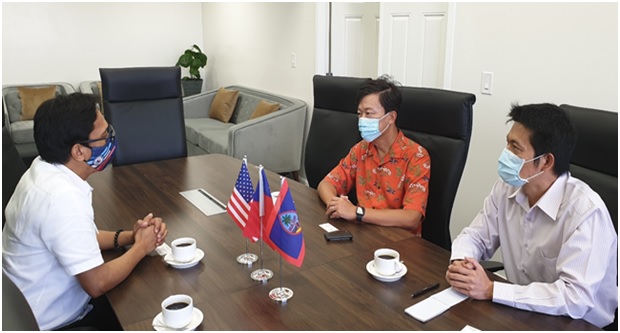 Consul and Acting Head of Post Alex O. Vallespin (3rd from right)) together with the members of the Taipei Economic and Cultural Office, headed by Director General Paul Yin-lien Chen (middle) and  Deputy Director Stephen Shu-Chih Hsu (1st from right).  (Photo: PCG Agana)
Upon the invitation of Director General Paul Yin-lien Chen, Consul and Acting Head of Post Alex O. Vallespin paid a courtesy visit to the Taipei Economic and Cultural Office on 25 November 2020 at the ITC Building in Tamuning, Guam.
During the courtesy visit, Consul Vallespin welcomed the newly-arrived Director General to Guam and touched on issues ranging from tourism, business opportunities, and the plight of overseas Filipinos in Taipei.  For his part, Director General Chen mentioned Taipei's intention to establish a strong presence in Guam and expressed his admiration of the thousands of Filipinos working in Taiwan. 
The Taipei Economic and Cultural Office (TECO) in Guam officially reopened on 10 October 2020, after closing in 2017 due to budgetary constraints and manpower considerations. Taiwan's foreign ministry decided to reopen the representative office on Guam due to the growing partnership between Taiwan and the U.S,  and the strategic  importance of Guam in the Pacific region.   
Deputy Director Stephen Shu-Chih Hsu and Protocol Officer Fritz Gerald A. Fernandez were also present during the courtesy visit.    
---