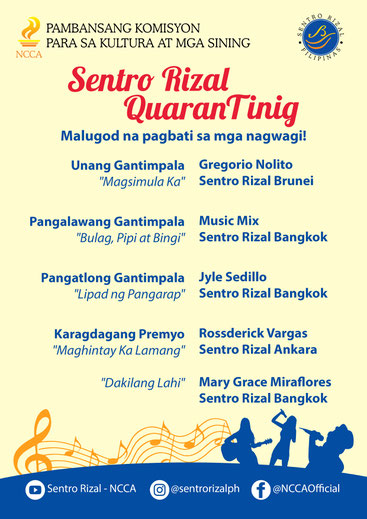 The National Commission for Culture and the Arts (NCCA), in partnership with Philippine Foreign Service Posts with NCCA-Sentros Rizal is pleased to announce the following winners of its recently concluded Sentro Rizal QuaranTinig: Patimpalak sa Pag-Awit:                        
The first prize is awarded to Gregorio Nolitan, from Sentro Rizal Brunei, for his rendition of "Magsimula ka"; the second prize goes to Musix Mix, from Sentro Rizal Bangkok, for the group's performance of "Bulag, Pipi at Bingi"; and the third prize goes to Jyle Sedillo, from Sentro Rizal Bangkok, for her rendition of "Lipad ng Pangarap".
The winners of the two consolation prizes are Rossderick Vargas, from Sentro Rizal Ankara, for his rendition of "Maghintay Ka Lamang", and Mary Grace Miraflores, from Sentro Rizal Bangkok, for her rendition of "Dakilang Lahi".
The online competition, which was held in celebration of Buwan ng Wika (National Language Month) held in August of each year, aimed to promote the use of the Filipino language as a medium of artistic expression, imparting Philippine culture and enriching the public's appreciation of the Filipino language through Original Pilipino Music (OPM).
Introducing a platform for all Filipinos overseas and interested foreign nationals to showcase their musical talent, the competition boasted a total of 102 submissions, from where five winners were chosen by a panel of Judges from the NCCA's National Committee on Music, headed by former NCCA Chairman, Felipe de Leon, Jr.