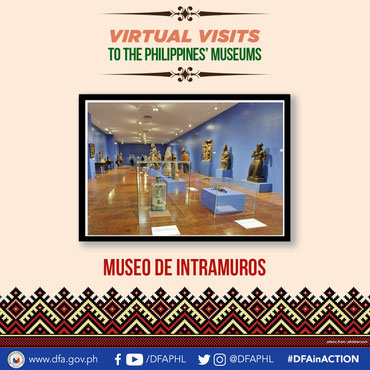 Museo de Intramuros
Intramuros, considered one of the most historic sites in Manila as it used to be the seat of power during the Spanish occupation of the Philippines, is a National Historical Landmark. Currently administered by the Intramuros Administration, this historical site is also home to Museo de Intramuros located at the reconstructed San Ignacio Church.
Through this virtual tour, viewers can know more about Intramuros and also see the extensive collection of religious artifacts dating back to the 16th and 19th centuries.
Link:  
https://artsandculture.google.com/partner/intramuros-administration
Credits to: Intramuros Administration
Every day from 2 to 7 October, the Philippine Consulate General in Agana, Guam, through the DFA Office of Strategic Communications – Cultural Diplomacy Division, will feature one Philippine museum where you can tour virtually and on the 26th of October 2020, we invite you to join us in the opening event of our virtual tour of Museo Kordilyera!
"Museo Kordilyera Virtual Tour: From the Mountains of the Philippines, Into Your Homes" will be available on the DFA platforms from 26 to 31 October 2020 only.
Join us on this virtual tour and we hope this will inspire you to visit our museums in the future. Happy Museums and Galleries Month and National Indigenous Peoples Month!
#CulturalDiplomacy
#HeritageDiplomacy