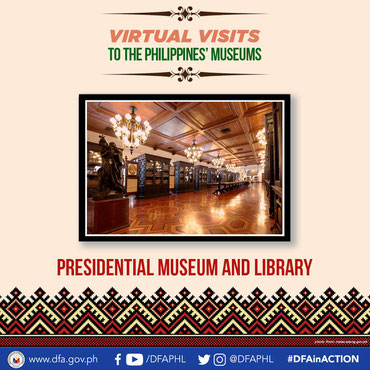 Presidential Museum and Library
The Presidential Museum and Library is the primary office within the Office of the President tasked to preserve, manage, and promote the history and heritage of the Philippine Presidency.
In this virtual tour, the public can know more about the history of the Malacañan Palace and view the curated exhibits which include various furniture, artwork, memorabilia and other items.
Link:  
https://artsandculture.google.com/partner/malacanang-presidential-museum-and-library
Credits to: Presidential Museum and Library
Every day from 2 to 7 October, the Philippine Consulate General in Agana, Guam, through the DFA Office of Strategic Communications – Cultural Diplomacy Division, will feature one Philippine museum where you can tour virtually and on the 26th of October 2020, we invite you to join us in the opening event of our virtual tour of Museo Kordilyera!
"Museo Kordilyera Virtual Tour: From the Mountains of the Philippines, Into Your Homes" will be available on the DFA platforms from 26 to 31 October 2020 only.
Join us on this virtual tour and we hope this will inspire you to visit our museums in the future. Happy Museums and Galleries Month and National Indigenous Peoples Month!
#CulturalDiplomacy
#HeritageDiplomacy