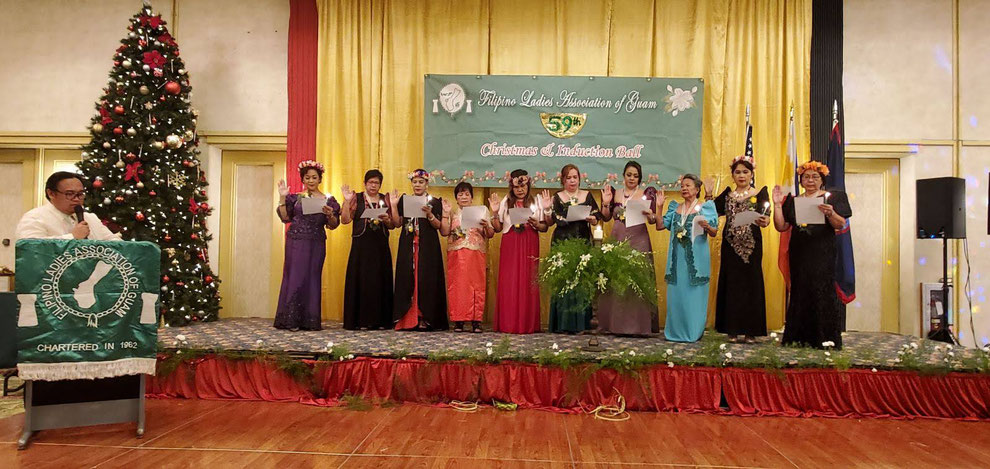 6 January 2020, AGANA, GU - Consul Mark Francis C. Hamoy, Acting Head of Post of the Philippine Consulate General in Agana (Guam), attended the 59th Induction and Christmas Ball of the Filipino Ladies Association of Guam, or FLAG. Guam Governor Lourdes Leon Guerrero also graced the event that was held on 3 January 2020 at the Chamorro Ballroom of the Pacific Star Resort and Spa in Tumon, Guam. Other dignitaries present were Senator Amanda Shelton of the 35th Guam Legislature and Presiding Judge Alberto C. Lamorena III of the Superior Court of Guam.
Governor Leon Guerrero administered the oath of the 2020 FLAG officers, namely, Maria Cristina S. Bansil (president), Aurora Leonen (vice president), Chona Cabedo Garin (secretary), Aida Miranda (corresponding secretary), Emelita Crisostomo (treasurer), and Gloria M. Baguinon (assistant treasurer).
Meanwhile, Consul Hamoy inducted the members of the Board of Directors for 2020, namely, Nenita Magallanes, Loisa M. Cabuhat, Lesly Dayson, Marites Barrogo, Leony Ronquillo, Lynda A. Tolan, Shirley Trinidad, Sabina Tamondong, Annie V.T. Gozum-Soto and Celia Casem-Martinez. The 2020 Board of Trustees, on the other hand, were sworn into office by Judge Lamorena.
As is customary during the FLAG Induction, Governor Leon Guererro and Senator Shelton exchanged corsages with FLAG's incoming president Maria Cristina Bansil and outgoing president Lorie Castelo, respectively.
During the program, FLAG members presented a special dance number based on "Salidumay," an indigenous folk song associated with the Igorot and Kalinga natives of the Cordillera Mountains in the northern part of the Philippines. I'Manelu, a Chamorro cultural group, also presented a ceremonial Chamorro dance that included a traditional chanted blessing for the new FLAG officers.
Founded in 1962, FLAG has been a stalwart among Filipino civic organizations on Guam that not only engages in various socio-civic projects to benefit different sectors of Guam society, but also helps foster closer ties between the Filipino community and the broader island community.
---
PHOTOS FROM THE EVENT
---