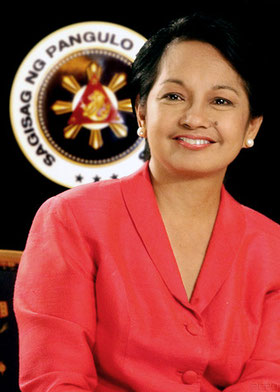 H.E. Gloria Macapagal-Arroyo
14th President of the Philippines
---
Gloria Macapagal-Arroyo, President of the Republic of the Philippines from 2001 to 2010, holds many records. Elected as Senator during her first try in politics in 1992, she was re-elected Senator in 1995 with nearly 16 million votes, the highest number of votes in Philippine history at that time. She was elected Vice President of the Philippines in 1998 with almost 13 million votes, the largest mandate in the history of presidential or vice presidential elections. She was sworn in as the 14th President of the Philippines on 20 January 2001 by Chief Justice Hilario Davide Jr. after the Supreme Court unanimously declared the position of President vacant, the second woman to be swept into the Presidency by a peaceful People Power revolution (EDSA II). She is the first person to hold elective office in the country after finishing her term as President, having won with an overwhelming majority as Representative of the second district of Pampanga in 2010, a position held previously by her father Diosdado and her son Mikey.
Born on April 5, 1947, she is the daughter of the late President Diosdado Macapagal, a descendant of Lakandula and fondly known as the "poor boy from Lubao" in the province of Pampanga, and Dr. Evangelina Macaraeg-Macapagal of Binalonan, Pangasinan. The couple were well known for their integrity and simple but dignified lifestyle. During the Presidency of Diosdado Macapagal, the Philippines was second only to Japan in economic progress in Asia.
Gloria upheld the high academic standards of her parents, graduating valedictorian of her high school class in Assumption Convent. She was consistently on the Dean's List during her two-year college stint at Georgetown University in Washington, D.C., where former U.S. President Bill Clinton became her classmate. She graduated magna cum laude from Assumption College with a Bachelor of Science in Commerce. She later earned a Master of Arts degree in Economics from the Ateneo de Manila University, and a Master's degree and Ph.D. in Economics from the University of the Philippines.
President Gloria Macapagal-Arroyo began her professional career as a teacher at Assumption College. She later became Assistant Professor at the Ateneo de Manila University, and Senior Lecturer at the UP School of Economics.
Macapagal-Arroyo entered government service as an Assistant Secretary of the Department of Trade and Industry during the Aquino Administration in 1987. She also became Executive Director of the Garments and Textile Export Board, steering the garments industry to become the top net dollar earner for the country, and rose to the rank of Undersecretary of Trade and Industry. During her tenure in the Senate, she authored 55 laws on economic and social reform and was named outstanding Senator several times. When she was elected Vice President, President Joseph Estrada appointed her as concurrent Secretary of Social Welfare and Development, a post she held until her resignation from the Cabinet on 12 October 2000.
President Macapagal-Arroyo is married to lawyer-businessman Jose Miguel Tuason Arroyo of Binalbagan, Negros Occidental, the grandson of the late Senator Jose Ma. Arroyo of Iloilo. They have three children, Mikey, Luli, and Dato.
---
Text on this page from http://www.gloriamarroyo.ph/bio.html (official page of Gloria Macapagal-Arroyo, which is no longer accessible).