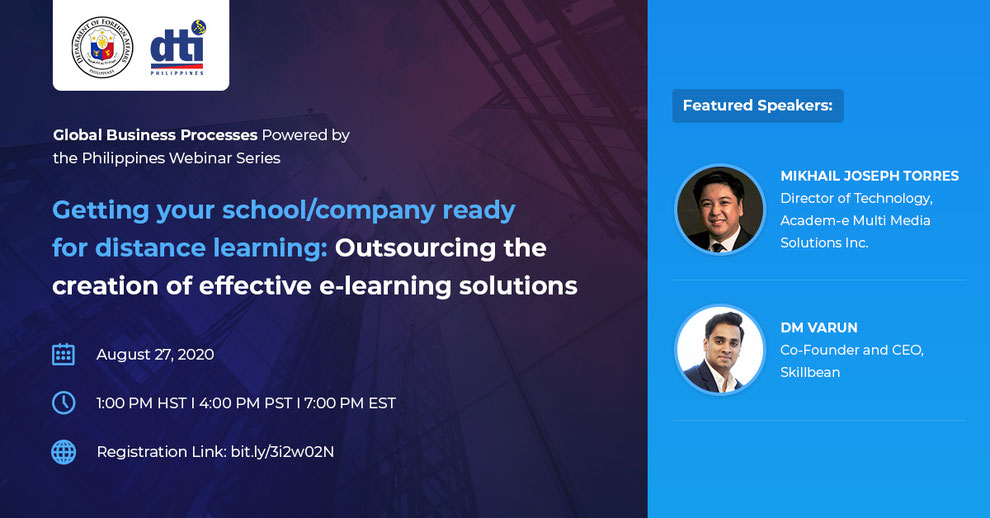 GETTING YOUR SCHOOL/COMPANY READY FOR DISTANCE LEARNING: Outsourcing the creation of effective e-learning solutions
Having professional e-learning content creators and managers is critical in ensuring that your school or company is able to deploy timely and effective educational materials at a time when distance learning is the norm. This kind of expertise, however, may not yet be embedded in your current organization.
Whether your goal is to increase the effectiveness of online teaching, re-tool your employees with skills to adapt to the "new normal," or adopt e-learning as the primary means of training your employees, Philippine-based companies are capable of assisting you in achieving your e-learning development objectives at a competitive price.
Learn more on how Philippine companies can help you create e-learning materials. Attend the webinar on "Getting your School/Company ready for Distance Learning: Outsourcing the creation of effective e-learning solutions" on 27 August 2020 at 1:00 p.m. (HST), 4:00 p.m. (PST), 7:00 p.m. (EST) [or 9:00 a.m. (ChST), 28 August 2020] via Zoom.
This webinar is the third installment of an 8-part series entitled "Global Business Processes Powered by the Philippines," which will run from 13 August to 1 October 2020.
Private breakout sessions will be held right after each webinar to allow attendees to interact directly and ask the featured speakers their questions. Register now to get access to the exclusive business-to-business meeting during the Zoom breakout sessions.
FEATURED SPEAKERS: Mikhail Joseph Torres, Director of Technology of Academ-e Multi Media Solutions Inc. & DM Varun, Co-Founder and CEO of SkillBean