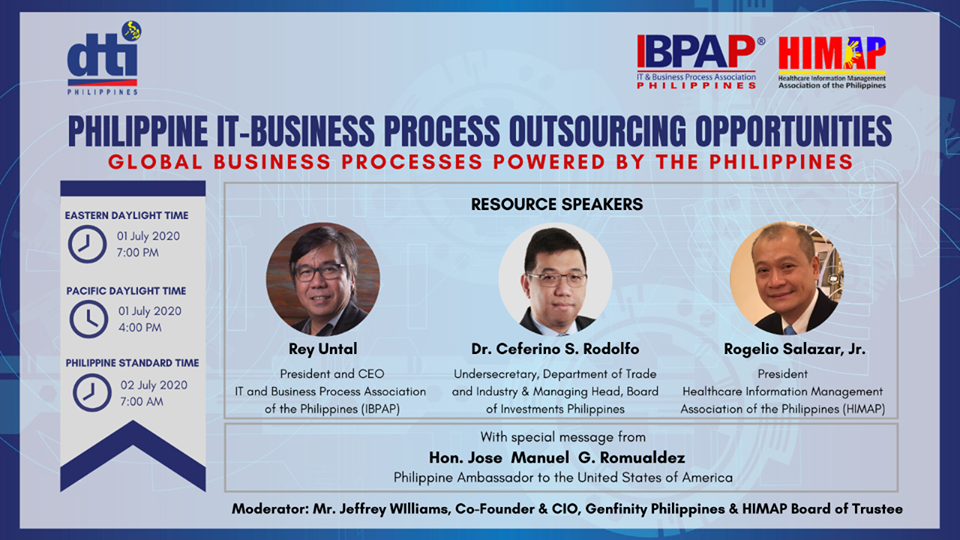 Agana, GU - The Philippine Consulate General in Agana (Guam) invites members of the Guam business community and other interested parties to the PHL Department of Trade and Industry webinar, "Philippine IT-Business Process Outsourcing Opportunities: Global Business Processes Powered by the Philippines."  Watch it live at https://www.facebook.com/PHinUSA on 1 July 2020 | 7:00 p.m. ET (02 July 2020, 9:00 a.m. Guam time).
The featured speakers, Dr. Ceferino S. Rodolfo, Undersecretary of the Department of Trade and Industry and Managing Head of the Board of Investments of the Philippines; Mr. Rey Untal, President and CEO of the IT and Business Process Association of the Philippines (IBPAP); and Mr. Rogelio Salazar, Jr., President of the Healthcare Information Management Association of the Philippines (HIMAP), will talk about how the Philippine IT-BPO industry -- the preferred destination for voice and non-voice based services -- coped with the COVID-19 pandemic and was able to support the requirements of overseas businesses especially for call centers, high-level BPO, and IT-enabled services, including Healthcare Information Management Services, particularly in North America.
With the disruptions to business operations brought about by the pandemic, governments and industries are looking for ways to transition to the new normal in doing business. Opportunities in the Philippine IT-BPO industry may be the answer.