PSA-2020-020-HMFC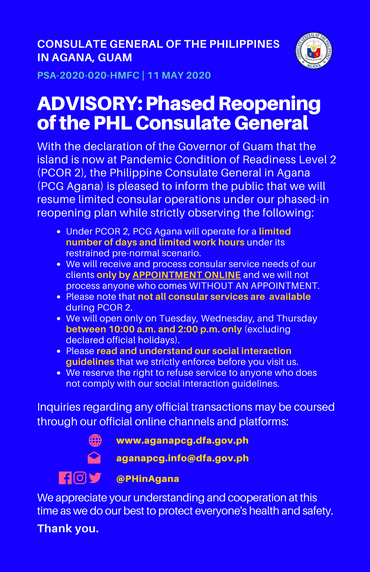 With the declaration of the Governor of Guam that the island is now at Pandemic Condition of Readiness Level 2 (PCOR 2), the Philippine Consulate General in Agana (PCG Agana) is pleased to inform the public that we will resume limited consular operations under our phased-in reopening plan while strictly observing the following:
Under PCOR 2, PCG Agana will operate for a limited number of days and limited work hours under its restrained pre-normal scenario.
We will receive and process consular service needs of our clients only by APPOINTMENT ONLINE and we will not process anyone who comes WITHOUT AN APPOINTMENT.
Please note that not all consular services are available during PCOR 2.
We will open only on Tuesday, Wednesday, and Thursday between 10:00 a.m. and 2:00 p.m. only (excluding declared official holidays).
Please read and understand our PCOR 2 Consular Procedures below before you visit us.
We reserve the right to refuse service to anyone who does not comply with our social interaction guidelines.
Inquiries regarding any official transactions may be coursed through our official online channels and platforms:
We appreciate your understanding and cooperation at this time as we do our best to protect everyone's health and safety.